C-SPIN in the Spotlight at the Joint MMM-Intermag Conference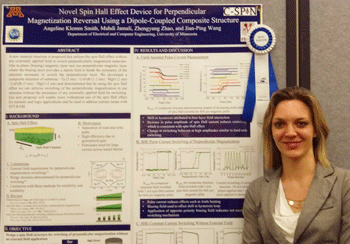 More than ten C-SPIN PIs and nearly twenty C-SPIN students and postdoctoral fellows presented their C-SPIN research at the world's largest magnetic and spintronics conference this January in San Diego. Among them were three C-SPIN PIs who delivered prestigious invited talks on future spintronic materials and devices to more than 1,800 participants from magnetic and spintronic research institutions and industry.
Prof. Maxim Tsoi from University of Texas at Austin, who demonstrated the world's first electrical switching of antiferromagnetic material, gave a talk on the interconnection between magnetic states and transport currents in antiferromagnetic Sr2IrO4.
Prof. Christian Binek from University of Nebraska, who pioneered the research on the magnetoelectrical switching study of Cr2O3, gave a talk on magnetoelectric antiferromagnets for ultra-low power memory and logic and device applications.
Prof. Geoff Beach from MIT, who co-discovered the voltage controlled magnetism on GdOx/Co bilayer structure, gave a talk on enhanced magneto-ionic switching of interface anisotropy in Pt/Co/GdOx films.
We have seen more and more researchers from STARnet companies participating and presenting exciting work at magnetic and spintronics conferences since the kickoff of C-SPIN. At this conference, Dr. Sasikanth Manipatruni from Intel, one of the world leading researchers on spin logic scaling study and a C-SPIN industry associate, presented a new and more scalable spin device concept by representing the Intel team: spin-orbit logic with magneto-electric nodes mediated by charge interconnects.
Angeline Smith, a University of Minnesota Ph.D. candidate from Prof. Jian-Ping Wang's group won a best poster award on her recent work, "Novel Spin Hall Effect Device for Perpendicular Magnetization Reversal Using a Dipole-Coupled Composite Structure." A patent application on this new concept was filed with the support of STARnet in 2015.